Simple Workflow, Powerful Results
Parallel Pipes is an AI-Driven, Patent-pending generative design platform.
Streamline and simplify your complex design process. Optimize, test and validate your product with ease.
How do we improve designs?
Find out how to build better products faster and at a fraction of the cost, with AI-driven development. Parallel Pipes has successfully helped companies just like yours.
Why choose Parallel Pipes for your design needs?
Auto-Generate Simulations
Develop simulations without the expense or difficulty, by eliminating tedious, time-consuming setup. Your product development investigations will move forward faster than ever before.
Automate Optimization
Turn your complex design goals into real products, without using complex CAE (computer aided engineering) tools. Our patent-pending, AI-driven platform automates the tedious work, accelerating your design process by reducing delays and human error.
Game Changing Formula
What if you could eliminate dead-end design pathways, and reduce cost while delivering superior results? Our platform empowers you to do just that, using our proprietary physics-based generative design.
Reduce Costs
No hardware, software or maintenance costs. On average our customers save at minimum 40% of their previous development costs.
Speed up Time-To-Market
Get ahead of your competition by releasing your product first. We do this by helping you iterate faster, and reducing risk by jumping to designs that already work for your design requirements.
Boost Productivity
Reduce human inefficiency and delays, allowing your engineers to focus on higher added-value tasks. Instead of learning extra design tools, focus on ensuring the overall design matches what your customers want.
Not an expert at developing Simulations?
No problem! We will generate the simulation for you, because let's face it, simulation setup is hard. Just select the Job Type most similar to yours, tell us which forces affect your design, and how much.
Step 1: Upload Design
Step 2: Define Design Goals
Step 3: View Simulation Results + CAD image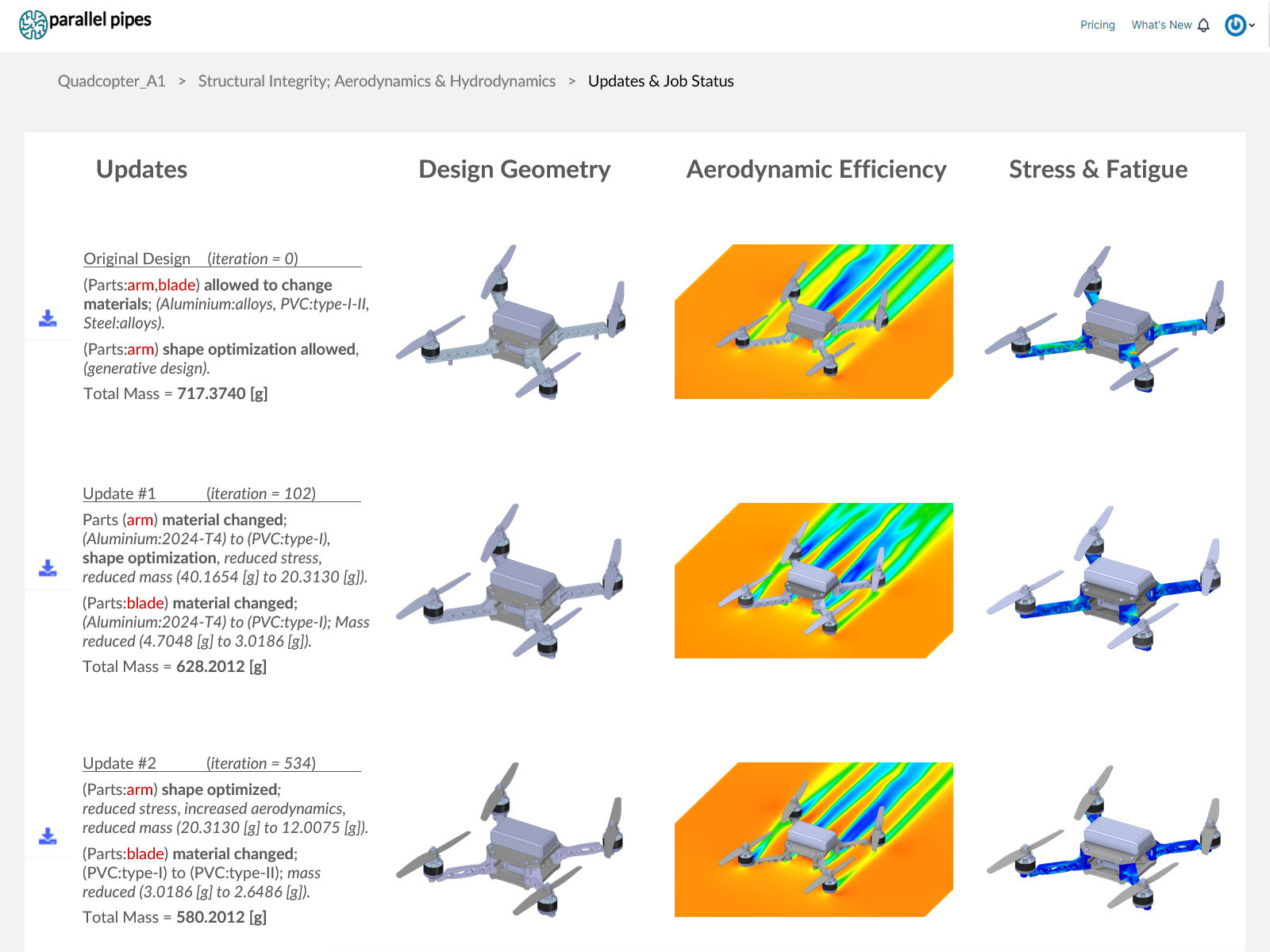 Optimize your product with Design Goals
Ensure your product achieves your requirements. Using our platform, your design will change and evolve as you allow it to. Each iteration it will perform better, as defined by your design goals.
Step 1: Upload Design. We support most major 3D CAD systems.
Step 2: Define Design Goals. We automatically generate and run your simulation.
Step 3: Check Updates. View progress and watch your design evolve over time.
Step 4: View Final Simulation Results + CAD image. Export or view on PP platform.
Ready to create amazing products?
Not sure where to start? Want to talk to us before you subscribe? More questions?
Schedule a demo
Real-World Applications
What we have done so far.
Robotic Gripper Arm Durability
Longer lasting, more reliable robotic components and systems. Optimize robots to be less expensive, more durable, and endure more strenuous tasks and hazardous environments.
UV Sterilization of Medical Equipment
Safer, more efficient thorough sterilization of contaminated equipment. Optimize device components and structure for safety, effectiveness and cost.
Drones (UAVs)
The most efficient design profiles for taking to the skies or travelling down to the ocean depths. Performance optimizations and design-for-manufacturability ensure drones' resilience to natural hazards they encounter, and still remain low-cost.
Marine Vehicles
Hydrodynamic, durable and corrosion resistant aquatic vehicles and drones. Ensure survivability while accomplishing goals and mission tasks with greater ease and versatility than ever before.
Optical Detection Systems
Optical systems design can now be explored without decades of in-depth expert knowledge. Optimize and test detection systems with visible, night-vision (SWIR), and/or thermal (LWIR) to ensure accuracy and reliability, reduce cost to manufacture, while ensuring survivability against inclement weather or other hazardous environments.
Many More
Our platform is capable of handling a wide variety of product investigations and optimizations, including complex, uncommon design goals or custom environments. Let us know if you have a particularly challenging problem to model. Contact us now. We can help!